Knitting with colour – focusing on the hand-dyer
This week's theme is WORKING WITH WOOL and here at WOVEMBER we are really keen to ensure we highlight all the areas of wool work. Hand-dyers and designers play an integral part in working with wool, in creating art and structure on the blank canvas of the wool. We – the crafters – then finish the masterpiece in our hand-made items. 
This evening we are honoured to have hat architect WOOLLY WORMHEAD here to discuss the importance that hand-dyers play in her work as a designer.
It's not surprising that with such beauty, hand-dyed yarns are sought after and highly collectible. Shop updates sell out in no time at all, and shoppers dash to their favourite dyers at shows. And I'm really no different! I love to swoon and deliberate and pet all of these amazing, colourful and seductive wool yarns. Within each skein you'll find the signature of it's dyer, a master of colour who'd have spent many hours perfecting their technique, their tones and their colour blends. Hand-dyed yarns are without a doubt my favourite yarns not only to knit with, but also to design with.
Something that really drives me when I design is structure, and construction, and this to me is where hand-dyed yarns comes into their own. The changes in colour really emphasis the structure, and in turn the structure serves to emphasise the colour. My most recent book, 'Painted Woolly Toppers', features Hats designed specifically for hand-dyed yarn – and they marry each other so perfectly that if one of the designs were knit in solid colour, the design features would be lost and it really wouldn't be the same Hat.
Quoin is a multi-directional Hat, with an asymmetrical brim and short rows in the body. The change in direction between the different sections of the Hat is complemented by the subtle changes in colour.
Camden Cap is a modern classic, with it's peaked brim and retro style. Yet it's the hand-dyed yarn that adds that extra dimension to the body of the Hat. Again different parts of the Hat are knit in different directions, and in different stitches, and the details are picked up by the yarn.
One of my favourite ways to use hand-dyed yarns is with garter stitch. Garter stitch and hand-dyed are such great bed-fellows, and you can't really go wrong, especially when you throw in a little sideways construction!
These three Hats-in-progress are top secret designs that I shall tease you with to show just how wonderful garter stitch and the colours play together. Aren't they just scrumptious?
Hand-dyed yarn doesn't just come in bold and variegated colours – it can be just as beautiful as a solid or semi-solid colour. Semi-solids in particular have a way of making the most of texture, adding another layer to an already interesting piece of knitting.
 Banksia – design for semi solid yarns, shown here in Eden Cottage Langdale SW Aran

Bellefleur– design for virtually solid or solid yarns, shown here in Renaissance Dyeing Troubadour.

Kernmantle – design for semi solid or solid yarns, shown here in Malabrigo Merino Worsted.
I've a few favourite dyers to work with, so let me walk you through them.
Ripplescrafts
Based in the Scottish Highlands, Helen dyes some of the most beautiful solid and semi solid yarns I've had the pleasure to work with. You might think that a solid coloured yarn is, well, solid in colour, but you'd be wrong. Even within that single shade you'll have a sense of the depth of colour, and the process involved in achieving that.
SparkleDuck
Heather dyes her yarns at home, using a method that she's developed patiently over time, and one that gives her yarns a very unique effect. You'll mostly find Heather are shows in the UK, or through her local yarn shop, The Sheep Shop, in Cambridge.
The Knitting Goddess
I've worked with a number of Joy's yarns and each and every one of them has been beautiful! Joy also stocks a wide range of British yarns.
Whimzy
I was introduced to Whimzy when I was working on 'Painted Woolly Toppers' and I've already got design plans in place for more work with this yarn. You'll often find Whimzy at UK shows too – I met up with her at Fibre East.
Vilianes
This is a new to me dyer, located in France. And rather than tell you how wonderful the yarns are I really think you should go and look for yourself – delicious!

Snail Yarn
Another new to me dyer, based in Italy, whom I had the pleasure of meeting in person at a recent festival where I was teaching. Put it this way – my yarn budget for the next 3 months was spent with this dyer.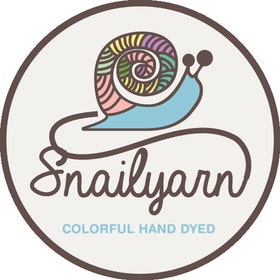 So many thanks to Woolly for illustrating the relationship between dyer and designer and the happy collaboration of hand-dyed yarn with design. As Woolly mentioned her new book features 10 hats designed with incredible hand-dyed skeins. The details for purchasing Painted Woolly Toppers can be found by clicking the image below.
All images, expect where stated, belong to Woolly Wormhead and have been used with kind permission.